Welcome to Avis
New Mercedes C-Class
Premium cabrio rental at Avis
Mercedes-Benz C200 Cabrio Aut.
Comfort, whatever the weather

The automatic wind deflector AIRCAP and the neck-level heating system AIRSCARF will ensure year-round open-air driving enjoyment. When the roof is open, AIRCAP reduces air turbulence in the interior for all occupants, including your rear-seat passengers. The AIRSCARF neck-level heating system makes open-top motoring a pleasure, even when the outside temperature is slightly cooler. Warm air is blown from air outlets in the head restraints to give you and your driver and front-passenger the feeling of an invisible scarf.

Delightfully quiet: the fabric acoustic soft top

It's in the DNA of every Mercedes to provide outstanding driving comfort. In the case of a cabriolet, this above all means acoustics on a par with closed-top cars. The fully automatic acoustic soft top can be opened and closed whilst driving at a speed of up to 50 km/h, the roof opens in just 20 sec.

Modernity meets lifestyle

The new C-Class Cabriolet positively exudes acceleration: the diamond radiator grille is an exclusive statement of pure driving pleasure. Distinctive design lines on the bonnet point just one way: forwards. To the large air intakes and the standard-fit LED High Performance headlamps – the crowning glory of a scintillating design. An interior that beckons you to get in, inhale and be free. Sporty integral-style seats, a low sitting position and a pure open-air experience add to the emotive appeal and intensity with each passing mile.

Cabrio experience with the highest level of comfort at Avis

Try the cabrio experience in our model with the highest level of driving comfort! The new Mercedes C-Class 200 Cabriolet 2.0 135 kW (184 hp) with AMG Line exterior and interior, 9G-TRONIC automatic transmission, navigation system, acoustic soft top, advanced cruise control system (DISTRONIC PLUS), equipped with AIRCAP and AIRSCARF can be rented for 1 or more days at Avis Hungary!

You can send your request for quotation via our online form, just click on 'Get a quote' button, or contact Avis Budapest downtown office on the following availabilities.

Please include the following informations in your request form:



Pick-up location (exclusively Budapest offices)
Return location (exclusively Budapest offices)
Planned pick-up date (DD/MM/YY)
Planned returning date (DD/MM/YY)
Get a quote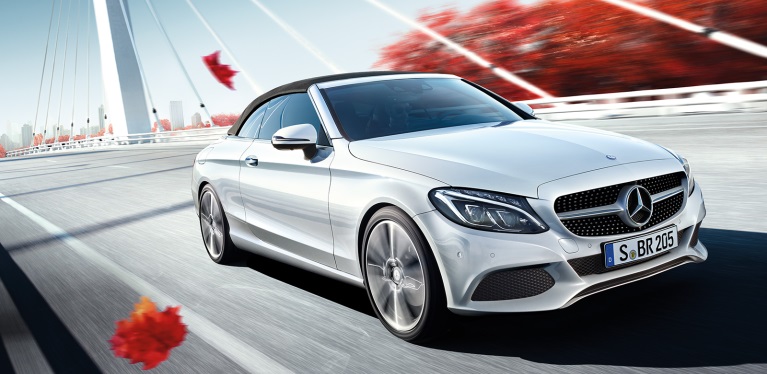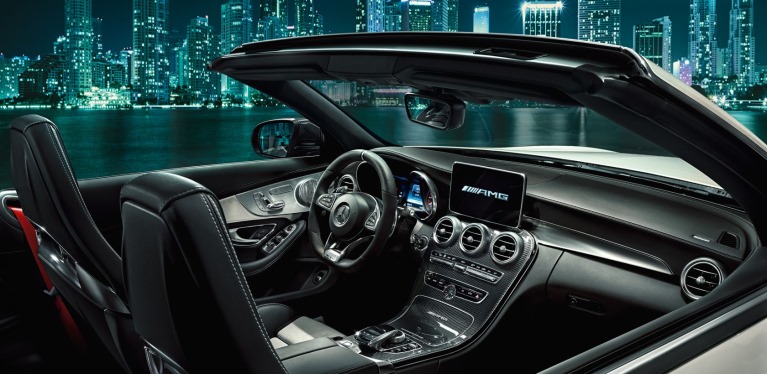 Please note that he images above are illustrations only, the Mercedes-Benz C200 cabriolet in our fleet are available in 'Brilliant-blue' color.
Rental conditions, informations
vehicle can be rented subject to availability, between 1st November and 15th March restrictions may apply depending on weather
rental period: minimum 1 day (24 hours)
pick-up/returning location: Avis Budapest offices
age limit: minimum 25 years
driving licence requirement: valid driving licence for at least 1 year
renter has to possess with valid international credit card: Visa, American Express, MasterCard
rate includes: VAT (27%), km-usage (according to the table), vehicle licence fee (VLF), company car tax (CCT), airport surcharge, liability insurance, collision damage waiver, theft protection (CDW & TP), free highway use in Hungary with electronic permission, compulsory service costs, financing and depreciation, performance tax, trade tax
rate excludes: fuel, non-reimbursable excess (in case of breakage: 10%, but min. 600 EUR/damage, in case of theft: 4,300 EUR), cost of any extra kilometres (0.25 EUR/km, VAT incl.), amount of any administrative fines, parking fees, surcharges etc., cost for repair and replacement of the tyres, service costs due to improper use, any other costs occurred
rental fee is not discountable, offer cannot be used in conjunction with any other coupon, promotion or offer
during the rental the General Rental Terms and Conditions applies
New Mercedes C-Class premium cabrio car rental, get a quote
You can send your request for quotation via our online form, just click on 'Get a quote' button on the top of the page, or contact Avis Budapest downtown office on the following availabilities.

Avis Budapest downtown office
1051 Budapest Arany János u. 26-28.
Tel: +36 1 318 4240, +36 1 318 4158
Email: bp1@avis.hu
Opening hours:
Mo-Fr 7:00-18:00
Sa-Su 8:00-14:00